Take a look at one of our events and what the Media is saying about this and learn even more. Hear first hand what value people are getting by attending our events and the connections they get out of it.
• MY TEDxFultonStreet TALK
Published on 07/18/2014
Mark was a presenter in 2014 at TEDxFultonStreet in New York City on The Art of Active Networking
"The Art of Man" for Gwen Network
Published on 01/12/2015
So grateful to have been included in "The Art of Man" series! It's funny when you are put on the spot in an interview and you have no idea what you are going to be asked, and then to later see the interview to see how you answered the questions. I am thrilled to finally have this interview from earlier this year for the GWEN "Art of Man" series. Such a great organization and I am proud to have been asked to do this!
#Sharktank Effect's Rey Ybarra Meets w/Serial Entrepreneur #Mark Sackett @Pax Stereo
Published on 12/16/2015
Click here to view the video.
Jim Carrey's Secret of Life - Inspiring Message
Published on 06/14/2014
Lessons From Jim Carrey's Journey of Life shared in his inspiring speech. What Jim shared in this inspiring talk, provides in our opinion, a roadmap for life and why we think The Art of Active Networking is so very important. Be prepared to take a few amazing notes as you listen!
The Socal Story
Published on 12/10/2014
Mark E. Sackett speaks at Silicon Valley Story in Los Angeles.
Interview on Good News Broadcast
Published on 08/19/2014
Mark gives you a little "Good News" about The Art of Active Networking events and why giving is important!
• Interview on myTreat Blog
Published on 04/18/2013 Read the Interview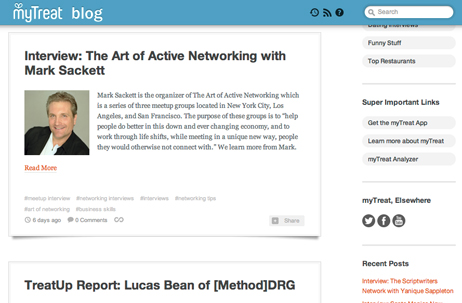 Blog about socializing, networking & communication skills.
It also includes news about myTreat, the iPhone app where you can meet people in real life by offering to treat them or requesting to be treated.
• The Art of Active Networking on Bay Area Vista
Aired on 07/08/2012 on KCSM-TV & 07/12/2012 on ION-TV Bay Area
TV show hosted & produced by Janice Edwards with interviews to assistants to the event in San Francisco and Mark E. Sackett, the creator & producer of The Art of Active Networking.
• Kids in the hall - Businessmen Networking
Kids in the Hall sketch from season 01 episode 13...
Take a look at this hilarious "Kids in the Hall" skit that cements for us exactly why we do "The Art of Active Networking" and why most networking simply does not work!